Japanese women are world-renown or their beauty and I don't just mean the models and actresses. The average woman on the street is beautiful. Gravure bikini models and idols are a dime a dozen in Japan. Their cute and sexy, but not all of them could be called beautiful. For this list, I chose only the most beautiful Japanese women with their clothes on. All that being said, it was very difficult to limit it to only 10. I was struck at what they have in common. Three of them were voted as the women with the most beautiful eyes in Japan, several of them have side careers as singers, many of them have got their start in horror movies and appeared together or in the same series, and all of them do cosmetics commercials. In Japan, people are referred to by family name first. Here, I've put all names in the western style of given name first.
10. Yuko Takeuchi 竹内結子
Born: April 1, 1980
Age: 30
Hometown: Saitama, Japan
Yuko Takeuchi is one of Japan's top actresses. She's starred in numerous TV dramas and movies and won many awards.She played the first victim of the ghost in the original Japanese
Ring
movie. Her appearance was, eh...short lived. She's famous for her cheerful, witty characters and charming smile. From 2005 to 2008, she was married to notorious playboy kabuki actor Shindo Nakamura. They were co-stars in the fantasy romance
Be with You.
She's been called the Japanese Meg Ryan and has starred in many romance movies. She recently starred as Keiko Arahida in the American TV show
Flashforward.
9. Yukie Nakama 仲間由紀恵
Born: October 30, 1979
Age: 31
Hometown: Okinawa, Japan.
The youngest of five siblings, Yukie Nakama has come from beng a bikini model, to one of Japan's top grossing actresses. As with many of the ladies on the list, she got her big break doing a horror movie. She played the human Sadako before she became the vengeful ghost in the prequel movie
Ring 0.
Later she became famous for her popular characters on TV. In the TV show
Trick,
she plays a talented magician who helps a physicist debunk spiritualists. In
Gokusen
, she plays a tough, street-wise high school teacher out to help her delinquent students. Each episode ends with her saving her students and fighting about 20 gang members at the same time. Gokusen is a live action version of a popular manga and her character always wears trademark glasses and a red jump suit. She also starred in
Shinobi
, a ninja action movie with colorful characters in the tradition of
Tekken
or
Ninja Scroll
. Yukie has been the many time co-host of Kohaku, the annual, musical extravaganza on New Year's eve. It's the biggest TV event of the year and the hosts change costume several times through the night. Yukie has a certain "look" that's unmistakable and she came in third place as the Japanese woman with the most attractive eyes.
8. Kou Shibasaki 柴咲コウ
Born: August 5, 1981
Age: 29
Hometown: Toshima, Tokyo, Japan
Kou Shibasaki is a multi talented singer and actress. Along with fellow list member Nao Matsushita, she's the most serious J-pop singer on the list and got her start in music. She writes most of her own music and many of her singles became theme songs for TV dramas or movies. She's also the most enigmatic and mysterious beauty on the list. Like a chameleon, she looks different in every picture, at times sophisticated and at others, casual and sometimes down right wacky. She has dark, mysterious eyes and came in second place for the most beautiful eyes and in my opinion, should have won. Compared to other beauties, she has a kind of defiant resilience and strength that comes out in her characters and music. Her most notable roles include the lead in the original Japanese horror film,
One Missed Call
about a murderous ghost in a cell phone. She played a spirited and half-crazy woman in the action fantasy
Dororo
about a man with swords for hands who is desperately trying to become human. She married her Dororo co-star Satoshi Tsumabuki. She also played a martial artist in
Shaolin girl
, an action-comedy made in the tradition of
Shaolin Soccer.
7. Nao Matushita 松下奈緒
Born: February 8, 1985
Age: 26
Hometown: Kawanishi, Hyogo, Japan
Nao Matsushita is a pianist, composer, singer, and actress. She started as a model and went on to star in various TV shows and movies and at the same time, developing a career as a serious pianist and singer. Most recently, she played the wife in the TV drama, GeGeGe Nyobo. It's the real life story of the the wife of Shigeru Mizuiki, a famous one-armed manga artist, now in his late 80's and lives in the town of Sakaiminato very close to where I live in Japan. She has bright eyes, a big, engaging smile and a wholesome, girl-next door look to her. Her star is on the rise in Japan.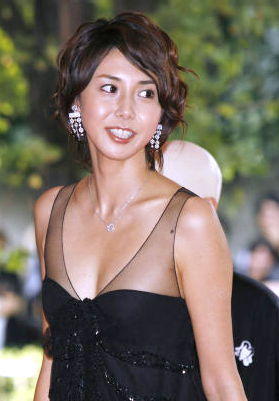 6. Nanako Matsushima 松嶋菜々子
Born: October 13, 1973
Age: 38
Hometown: Yokohama, Kanagawa , Japan
Nanako Matsushima is a high class actress and one of the biggest names in Japan. As with many others, she started as an idol, doing swimsuit photo shoots. Later, she became famous for her role as the mother in the original
Ring
and
Ring 2
horror movies. After starring in a very popular TV drama,
Great Teacher Onizuka
, she became the highest paid actress in Japan. All her subsequent TV shows became hits. In 2001, she married her very handsome
Great Teacher Onizuka
co-star Takashi Sorimachi. They have two daughters. After getting married, she dropped off the radar for a while, but recently appears on TV more often, especially in TV endorsements.
5. Maki Horikita 堀北真希
Born: October 6, 1988
Age: 23
Hometown: Kiyose, Toko, Japan
In addition to numerous photobooks and TV endorsements, Maki Horikita is one of the most popular and talented actresses on TV today and one of the youngest beauties on the list. She was quite the tomboy growing up and preferred playing sports or Dragonball Z with the boys than playing dolls with the girls. There's an expression in Japan that little girls who look girlish grow up to be cute, but girls who look boyish grow up to be beautiful. She received the Newcomer Award in 2005 for her role of the daughter in the movie
Always: Sunset on Third Street.
This historical drama takes place in post-war Tokyo during the year when the Tokyo Tower was being built. And she later appeared in the sequel. Around the same time, she won best supporting actress from the Japanese Television Academy Awards for
Nobuta wo Produce,
about two high school boys who try to make the new, shy girl, popular. She appeared in the horror movie
One Missed Call:Final
, the third in the series along with fellow list member Meisa Kuroki. Maki appeared in a lesbianesque photobook with Meisa who in real life is one of her best friends. She won Best Actress for the cross-dressing title role in
Hanazakari no Kimitachi e,
about a girl pretending to be a boy at an all boys' school. These days, she is famous for her series of Fujifilm commercials. Maki is a college student now and her career is just starting. Expect to see great things from this beauty for many years to come.
6. Yumiko Shaku 釈由美子
Born: June 12th, 1978
Age: 33
Hometown: Tokyo, Japan
Yumiko Shaku continues to be one of the most beautful and sexiest women in Japan. She's been a top idol for years. With big doe eyes and a killer smile, she represents a kind of ideal beauty for some Japanese. Her face has been analyzed. In 2008, The Japan Association of Adult Orthodontics awarded her the E-Line award for the most beautiful profile in the area between her nose and chin. She's starred in various movies and TV shows. Strangely, she often played in fantasy/action roles wielding a sword. Most famous were
The Princess Blade
and later
Sky High. Sky High
was a TV series based on a famous manga and spawned two movies. In it, Yumiko plays a woman who was murdered by a supernatural killer and became Izuko, guardian to the gate of the afterlife, where she helps departed souls find their path. She also appeared in a movie close to my heart,
Godzilla Against Mechagodzilla,
one of the best Godzilla movies in the series where she plays the pilot to Mechagodzilla. All these action roles are not very realistic and she always looks serious with a scowling face, which doesn't quite match her beauty. She looks much better with a glowing smile. Recently, she's played a lawyer on TV. Honestly, she's not the best actress, but with a face and body like that, who cares?
3. Aya Ueta 上戸彩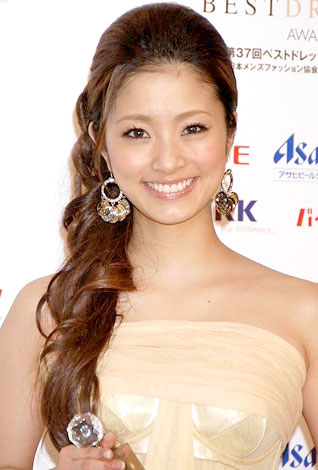 Born: September 14, 1985
Age: 26
Hometown: Nerima, Tokyo, Japan
Aya Ueto is Japan's golden girl. Everyone loves Aya. She's one of the hardest working entertainers in Japan and has one of the most recognizable faces. Her endorsements appears everywhere on TV, in magazines, and on billboards. She started a career in music, but got her big acting break in 2001 on the TV show
Kinpachi-sensei
playing a girl with gender identity disorder and won Newcomer of the Year. Since then, she's starred in a dizzying array of TV dramas as well as movies. Her big hit was
Azumi
in 2003. Based on the famous manga, the title character is a beautiful, but deadly serious assassin in ancient Japan. The film was the biggest hit of the year and won many awards. In the climactic battle scene, this tiny girl takes on and defeats what seems like over a hundred opponents. Oh well, we don't watch Japanese movies for the realism. During all this time, she's also maintained a career as a J-pop singer with five albums to her credit, though she admits she doesn't write all of her own music. She's famous on TV for a string of cellphone commercials by maker Softbank where she's part of an unusual family. Her brother is a big black man and her father is a small white dog who talks. She's a hard working dynamo, yet you'd never tell from her face. There's never chink in that perfect, ever positive smile.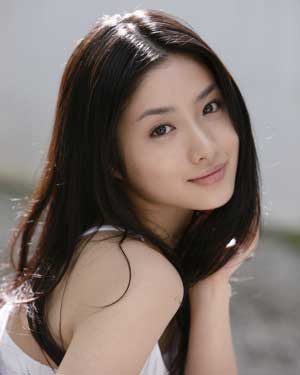 2. Satomi Ishihara 石原さとみ
Born: December 14, 1986
Age: 25
Hometown: Tokyo
The beautiful young actress Satomi Ishihara is rising star. She started as an idol and model and has been acting in TV dramas since 2003. She regularly appears on TV variety shows and has worked in movies and on stage. She's played a wide variety of roles including a nurse, doctor, houewife, and basketball player. She's proving herself to be a solid actress. Most recently, she starred as part of an ensemble cast in the suspense thriller,
The Incite Mill
about a group of people trapped in bunker by a psycopath with a huge cash prize and only one of them will make it out alive. She's a stunning beauty with long eyelashes and seductive lips. I think of her as the Japanese Jennifer Connelly. You can't take your eyes off of her.
1. Meisa Kuroki 黒木メイサ
Born: May 28th, 1988
Age: 23
Hometown: Nago, Okinawa, Japan
The stunning beauty, Meisa Kuroki was born in raised in the tropical Japanese island of Okinawa. She's an indigenous Luuchuuan and American mix and got her start as a fashion model. She started acting in theater in 2004 and has since starred in many TV dramas and movies. Most notably are
Crows Zero
based on the manga about troubled, street rumbling teens,
Vexille
, a CGI anime movie, and
Assault Girls
, an action adventure. She also starred in the horror movie
Chakushin Ari: Final
better known in America as
One Missed Call 3
with her good friend and fellow list member Maki Horikita. She and Maki also appeared in a sexy photobook. Most recently, she starred in the live action version of Space Battleship Yamato, one of the most famous animes in Japan with Japanese heartthrob Takuya Kimura. She's also a musician and has two albums and did the music for the movie Crows Zero. She's known for her sultry looks and often plays bad girl or action roles, but she showed a more sensitive side in the TV drama
Kaze no Gaden
"Wind Garden" She played an estranged daughter whose father is dying of cancer. She starred along side veteran Japanese actors Nakai Kichi as the father and Ogata Ken as the grandfather. Ogata Ken died of cancer just after finishing the drama.
She was voted number 1 as having the most mezmerizing eyes in Japan with numbers 2 and 3 going to fellow list members Kou Shibasaki and Yukie Nakama. In the fashion world she was chosen as the Japanese face of fashion brand Emporio Armani and as the international face for cosmetics brand L'Oreal.